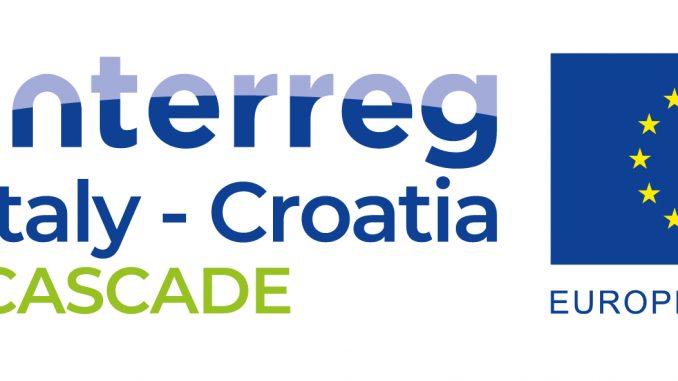 CASCADE (CoAStal and marine waters integrated monitoring systems for ecosystems proteCtion AnD managemEnt) is an INTERREG (Italy-Croatia) project
AIMED AT: developing concerted and coordinated monitoring, modelling and management actions, enhancing the knowledge and at evaluating the quality and vulnerability of inland, coastal and marine ecosystems in Italy and Croatia. Such general goal should support the restoration of endangered species and the integrated management of coastal areas in the Adriatic.
The integrated modelling and observing systems will be developed to design and implement MSP/LSI/ICZM, management and restoration actions in 11 pilot areas. Pilot actions will assess and protect coastal and marine biodiversity in degraded areas, set up restoration actions, assess the impacts of extreme events on ecosystems and understand how to avoid conflicts and boost synergies in the areas. The project will consolidate long-lasting research capabilities in the field through a concrete dialogue with stakeholders and the participation of Agencies, research centres and universities in order to enhance inland, coastal and marine knowledge. Such shared information and monitoring protocols are essential for supporting concrete actions dealing with environmental vulnerability, fragmentation and safeguarding of ecosystem services at cross-border level.
SPECIFIC OBJECTIVES
Increase awareness on data Fairness principles and applications through the project specific example
Increase awareness of marine environment and the appeal of the marine cross-border areas
Increase knowledge towards project specific content and the contemplated cross-border area
TARGET GROUPS
General Public
Local, regional and national public authorities
Associations
NGOs
Education and training organizations as well as universities
START DATE: 01.01.2020; END DATE: 31.12.2022
TOTAL BUDGET
€ 5 817 547,00
Funded by: 2014-2020 Interreg V-A Italy-Croatia CBC Programme
Lead Partner: Regione Puglia
UNIMOL Scientific Leader: Prof .ssa Maria Laura Carranza
PROJECT PARTNERs: EURO-MEDITERRANEAN CENTER ON CLIMATE CHANGE FOUNDATION (https://www.cmcc.it/); INSTITUTE OF OCEANOGRAPHY AND FISHERIES (https://acta.izor.hr/wp/) ADRIATIC TRAINING AND RESEARCH CENTRE FOR ACCIDENTAL MARINE POLLUTION PREPAREDNESS AND RESPONSE – ATRAC (www.atrac.hr); CITY OF NIN (https://grad-nin.hr/); UNIVERSITY OF MOLISE (https://www.unimol.it/; http://envixlab.unimol.it/); MARCHE REGION – PRODUCTIVE ACTIVITIES, EDUCATION AND LABOUR (https://www.regione.marche.it/); PUBLIC INSTITUTION FOR THE MANAGEMENT OF PROTECTED AREAS IN THE AREA OF SPLIT-DALMATIA COUNTY SEA AND KARST (http://moreikrs.hr/); RUĐER BOŠKOVIĆ INSTITUTE (https://www.irb.hr); DUBROVNIK NERETVA COUNTY (http://www.edubrovnik.org/); ENVIRONMENTAL PROTECTION AGENCY OF FRIULI VENEZIA GIULIA (http://www.arpa.fvg.it/cms/); IUAV UNIVERSITY OF VENICE (http://www.iuav.it/); ALMA MATER STUDIORUM – UNIVERSITY OF BOLOGNA (https://www.unibo.it); REGIONAL AGENCY FOR PREVENTION, ENVIRONMENT AND ENERGY IN EMILIA ROMAGNA (https://www.arpae.it/dettaglio_generale.asp?id=2593&idlivello=1505); DELTA 2000 CONSORTIUM COMPANY WITH LIMITED LIABILITY (www.deltaduemila.net); UNIVERSITY OF SALENTO (https://www.unisalento.it/); MANAGEMENT CONSORTIUM OF TORRE GUACETO; REGION OF ISTRIA;
ASSOCIATED PARTNERS: MOLISE REGION; MARINE PROTECTED AREAS TORRE DEL CERRANO
See for details
https://www.italy-croatia.eu/web/cascade/about-the-project
for details on UNIMOL general website see
https://www.unimol.it/blog/kick-off-meeting-progetto-cascade-sistema-di-monitoraggio-integrato-delle-acque-costiere-e-marine-per-la-protezione-e-gestione-degli-ecosistemi-67846/